YOUR BEST BET FOR WINTER: COMPLETELY THERMALLY BROKEN STEEL WINDOWS AND DOORS
Energy efficient, insulated, weather stripped – all of these terms are used to describe windows and doors that prevent heat loss, but what should you really be looking for? Steel Windows and Doors, your one source solution for premier windows and doors is here to help.
With smart building on the rise, manufacturers are rushing to cater to the needs of consumers for energy efficient materials. So many products claim that they are the perfect solution for your energy needs, making it hard to find which product stands out above the rest. Many windows and doors may have insulated glass, but what about the rest of the window's performance? Insulated glass is effective indeed, but depending on the climate, partial insulation may not be enough. The solution? Brombal Thermally Broken OS2 and EBE steel windows and doors; Brombal offers a fully insulated window and door system that can be completely thermally broken with insulated frames in addition to the glass.
How is an effectively insulated frame made possible? To join the frames, two materials are used – fiberglass reinforced polyimide extrusion and a high-density polyurethane resin injected under high pressure. By combining polyimide and high-density polyurethane this way, a continuous bond is ensured for thermal insulation with structural support.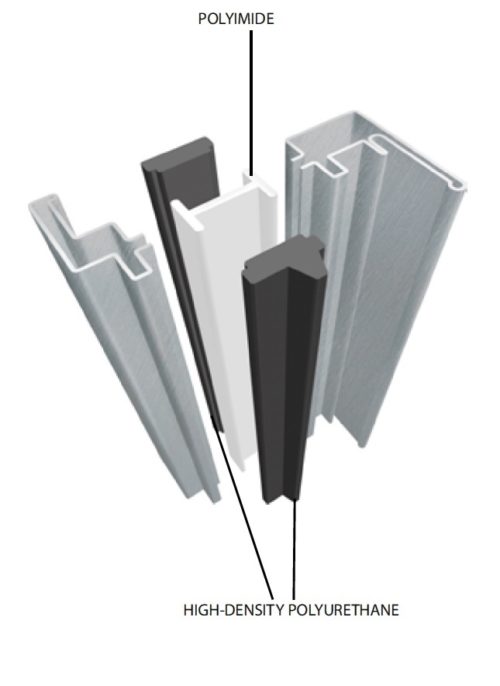 This particular method of construction combined with the use of steel allows for a window and door system that serves to protect the space from heat loss while allowing for freedom in design for architects. With Brombal's system, large glass designs are no longer impractical for cooler climates.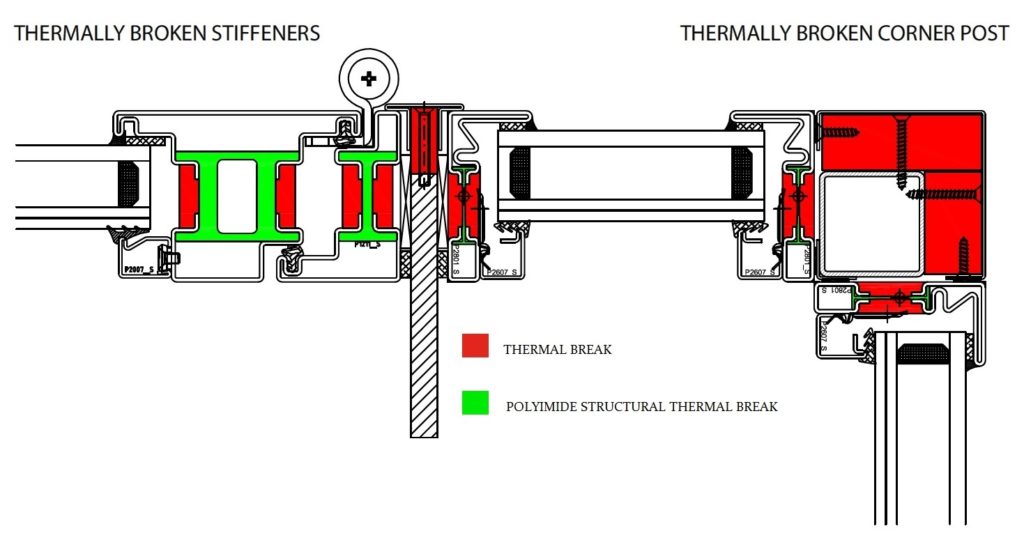 Tightly held together, the two materials create a thermal break that prevents heat from transferring between the indoors and outdoors. This allows for a warmer home in the winter and a cooler home in the summer. In addition, the concealed multi-point hardware creates a weather tight seal. This multi-point locking system makes it possible for oversized units to be energy efficient as well. Carefully engineered and tested, each thermally broken system by Brombal keeps proving that beautiful designs can also be functional.
Brombal is the first manufacturer in the world to work with thermally broken steel windows and doors; for almost 50 years they have been innovating and testing designs that provide high energy efficiency. Brombal makes insulated steel window and door frames, that when combined with insulated glass, create a truly thermally broken product. What most companies consider to be high standards for manufacturing, Brombal considers standard practice, because beautiful designs deserve to be created flawlessly.
Have a project in mind but your design is limited by window and door options? Brombal OS2 and EBE thermally broken windows and doors are the perfect solution. Contact us today.