THE MAINE EVENT – FEATURED IN DECEMBER 2013 EDITION OF VERANDA MAGAZINE
Steel Windows and Doors USA teamed together with Geoff Bowley, of Bowley Builders, to provide the owners of the King Residence, Mr. Tim Fredel and Ms. Jennifer King, with a remodel only fit for a king! Located in Kennebunkport; one of the most sought after summer retreat destinations in the state of Maine; there was no doubt that this remodel must stand out from the rest. To tackle their mission of providing residential greatness they chose to use the Bronze, Thermally Broken Brombal OS2 series frame sections to construct stunning, two story custom box bay windows along with other windows throughout parts of the home.
Together, with the Saladino Design Group, Geoff Bowley's remarkably efficient team of builders, and Steel Windows and Doors USA, the King Residence boasts custom transoms within the box bay units which were equipped with one of a kind hand blown leaded restoration glass accented by true authentic lead camming, custom bronze screen doors, bronze cladding, spandrel panels and complete roofing system.
For a town recognized for its remarkable ship building, numerous fishing docks and consisting of 20.52 square miles of land and 28.83 square miles of water, electing to use Brombal's Bronze was a perfect choice due to is superior resistance to corrosion and high strength attributes which, unlike aluminum or wood frame sections, will be unaffected by the salt filled air blown in from the Atlantic ocean outlining Kennebunkport's shore.  Additionally, the Brombal series frames provide exceptional thermal efficiency undeniably keeping Mr. Tim Fredel and Ms. Jennifer King comfortable all year long.
Hats off to Geoff Bowley who played an integral role in closing the envelope in an efficient time frame during construction of this fast tracked, tremendously custom and detailed project!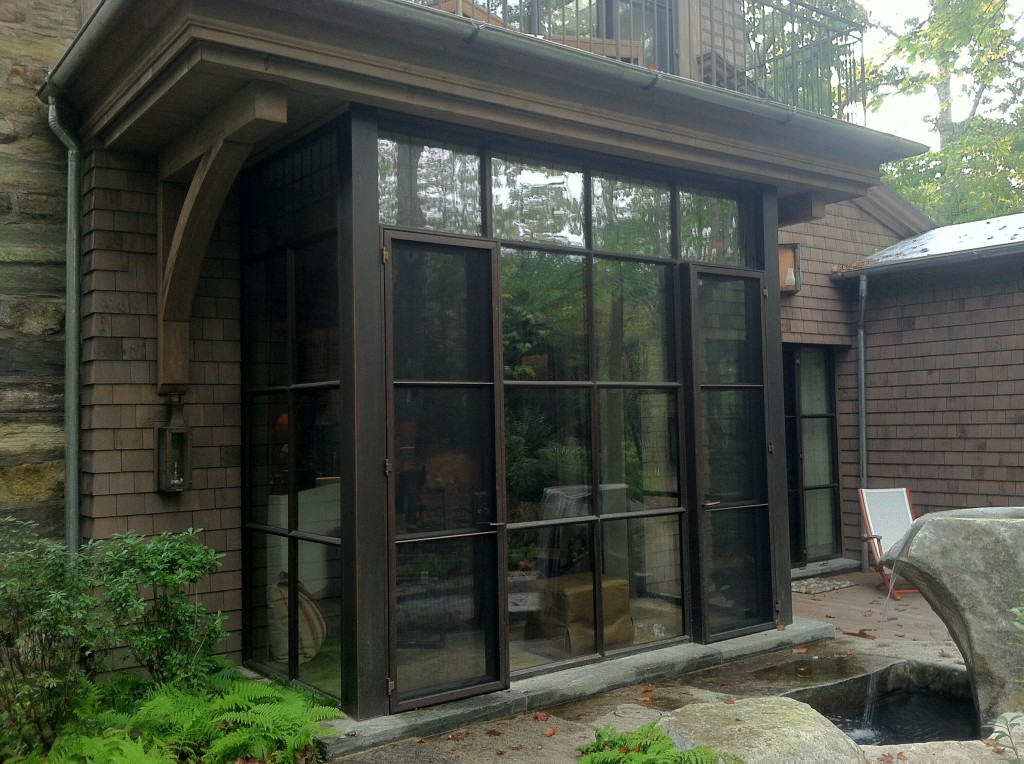 If you are considering renovating a historic home or just want more natural lighting, let Steel Windows and Doors USA help you along the way.
For more information on the 2013 December feature in Veranda Magazine please visit The Veranda Magazine Feature page.